NOBUYUKI TAKAHASHI EXHIBITION: "2007" November 19 – December 22, 2007
2007年11月19日(月)~12月22日(土)


Base Gallery is pleased to announce a solo exhibition of new works by artist Nobuyuki Takahashi entitled "2007."

Takahashi's artwork is born of a rigorous process of observation and revision. The artist works meticulously on his pieces, starting by drawing many similar rough sketches, and then letting them sit for a time so that he can stand back and contemplate them as if they were real landscapes viewed through a window.

However, Takahashi's finished works show little more than a glimpse of the exhaustive character of his creative process. Not even a hint of his tireless modus operandi of adjusting and re-adjusting remains. Rather, the viewer is left with no doubt in their mind that the soft focus and liberal placement of forms on his canvases was divined right from the start.

Takahashi has earned many fans over the years with his dexterous and impulsive line drawings, but has since expanded this impulsive nature into a laborious process of observation and modification, which continues to marvel viewers today with the rich and languid fruits of his labor.

This exhibition is Nobuyuki Takahashi's first solo exhibition at Base Gallery, giving the Tokyo public a chance to view this exceptional collection of new works in one location.
Biography
Works (selected)

A Familiar View (Gempei-ike Pond)
acrylic, pastel on paper
66×46.6cm
2007


Everyday Scenery (Large Bathhouse, Orange)
oil on canvas
80.3×80.3cm
2007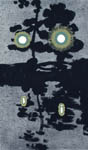 Torchlight of the Year
acrylic, watercolor, transparent film on paper
109.6×63.9cm
2007
Related Publication
"Nobuyuki Takahashi"
Grambooks, Tokyo
25×21.5cm / 112 pages / 154 color plates
Price: JPY 3,570
Back