HONG HAO EXHIBITION
2004年3月22日(月)~5月1日(土)


Base Gallery is pleased to announce the opening of Hong Hao's first solo exhibition in Japan.

Using mediums such as print and photography, this Chinese artist's works have been broadly exhibited in Europe and the USA. His computer-generated images are the best known, and he has been becoming an important figure in Chinese Contemporary Art scenes.

His cynical sense of humour is laid all through his works. Subjects of his work are general things and images flooded around us. These daily objects are skillfully deconstructed once then rebuilt, to reveal another reality with a certain beauty and sense of discomfort, and with a hint of delicious irony.

The deluge of images caused by informatization and the rapid development in economy of consumption have had a great effect on Chinese society, especially in urban areas. Under these circumstances, Hong Hao does not criticize severely but dodges airily with humour and reflects the Zeitgeist on his own artworks.
Biography
Works (selected)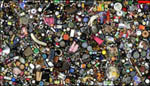 My Things No.2
119.5×209.5cm
photograph
2001-2002 / edition of 12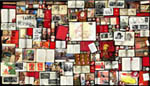 My Things No.6
119.5×209.5cm
photograph
2002 / edition of 12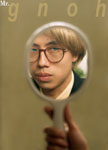 Mr. Gnoh, The Person Whom I Know Well No.1
82x60cm
photograph
1997 / edition of 15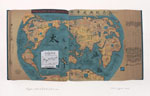 Selected Scriptures, page 1999
55x78cm
silkscreen
2000 / edition of 68
Exhibition Catalogue
21x27cm / 18 pages / 13 plates
Essay by Feng Boyi "Scene in the Mirror and Image outside the Object – About Hong Hao's art works"
Price: JPY 800
Back