Mayumi Terada
January 15 − February 28 2009
2009年1月15日(木)~2月28日(土)
11:00~19:00 * 日曜・祝日休廊
2009年1月15日(木) 18:00よりオープニングレセプションを行います。

glass door with path 060301a
2006
gelatin silver print 
140x110cm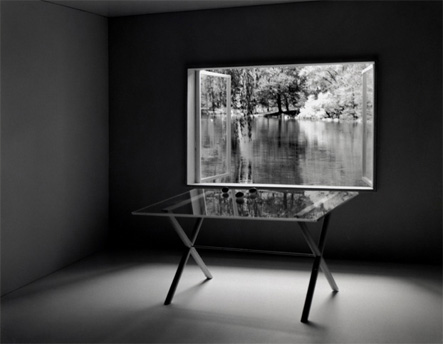 eggs on glass table 070301b
2007
gelatin silver print
106×83.5cm
Base Gallery is pleased to announce an exhibition of new works by Mayumi Terada. In her third solo exhibition at Base Gallery, Terada showcases her original miniature world of interior models, and also takes viewers outside in a new series featuring background elements of Central Park in her current home of Manhattan.
In a space where locality and time have become disjointed and fuzzy, Terada has shown viewers the fabricated non-existence of an "ephemeral nobody." In her newest works the artist adds a dose of reality to her fictions of the past, expanding the essential qualities of her work and creating an entirely new world in the process.
The bricks that build up this world can be anything from a small bench made of stones, to a thumbnail-sized book and map, or a sprig of cherry blossoms, and the artist's bold new direction is the mortar that holds it all together. Terada's new work releases the viewer into a powerfully expanded universe of her own design.

This exhibition follows Terada's resounding success at Paris Photo in November of 2008, presenting a collection of 14 photographic works by the artist.
Biography
Back