Nobuyuki TAKAHASHI "FUTSUNO-E" -ordinary paintings-
2010年5月10日(月)~ 6月25日(金)
11:00 ~ 19:00  * 日曜・祝日休廊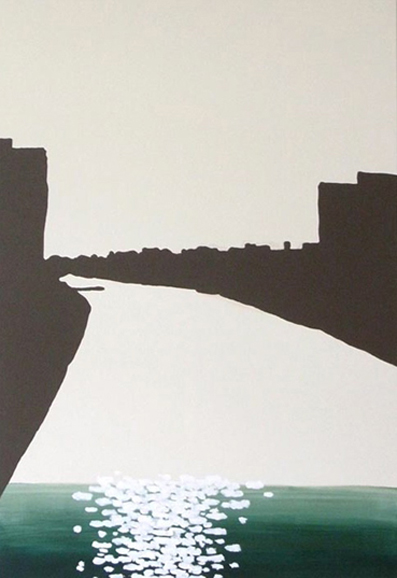 Trip to Kanazawa
2010
162 x 112 cm
oil on canvas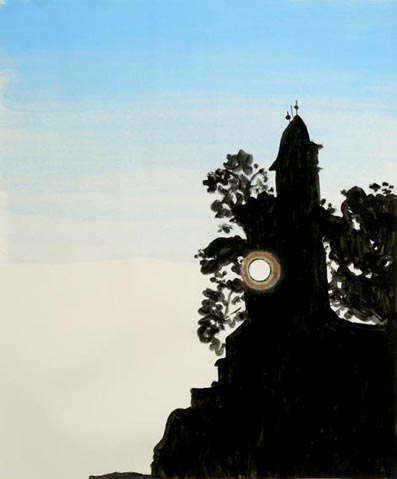 Old Castle Hotel
2010
46.9 x 39.4 cm
acrylic, pastel on paper
Takahashi's paintings are based on the magazine clippings and the photographs that he has been accumulating.
Vague lines and colours, and indefinite landscapes look completely different from the referred images.
However some features such as their origins start to appear as being looked at,
then you start to wander if the landscape in the photographs is temporary, not the one in the paintings.
Once having realised the fact that the loose lines are actually drawn only after a lot of time spending for trial and error,
you might find those landscapes are Takahashi's hidden inner landscapes no matter what the subject matters are.
It is not effusive either queer, but ordinary landscape, described as "our daily meal", a good one in particular, according to the artist,
Nothing should be spoken out loud in this world, and no places would be bothered by the existence of human beings so that they stay quiet.
There can find his thoughts behind these landscapes.
In order to get rid of all the grime and fake that painting has been accumulating over its long history,
we have to find a certain place where landscape originally has, and to draw a line there. Landscape just stays around with or without the artist himself,
and I spend a lot of time expressing it. As a result his painting presents itself as something serene and magnanimous but his intentions are well reserved.
It might create this indefiniteness to reveal the landscape's origin and to paint accordingly
Having done a solo exhibition in Germany, it will be his second solo show at Base Gallery.
We are looking forward to seeing you at the gallery.
Biography
Back