KEISUKE SHIROTA EXHIBITION
2004年5月11日(火)~6月18日(金)




Base Gallery is pleased to announce the opening of the very first solo show of Keisuke Shirota.

Keisuke Shirota's painting starts from a single photograph.
The photo is firstly glued to the surface, then he paints in monochrome of gray.

This anonymous photographic landscape has been shot with autofocusing and without looking into viewfinder. It surely is a part of which he has really seen, but only a vague piece of memory. Some clearly, others ambivalently, an enormous amount of memories are laid out in perspective. Was I ever there, and did I really see those? These stored memories come and go, far and close. Each memory is so uncertain, however, it tells us that the memories themselves are the one which we are really made of.
Shirota's painting questions us what is the act of "seeing", in the meantime tells how helpless the surrounding world is.
Biography
Works (selected)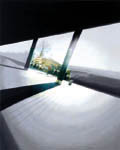 A SENSE OF DISTANCE #14
91×72.7cm
photograph, acrylic on canvas
2004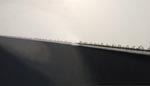 A SENSE OF DISTANCE #1
112.1×193.9cm
photograph, acrylic on canvas
2004

A SENSE OF DISTANCE #12
72.8x103cm
photograph, acrylic on canvas
2004

A SENSE OF DISTANCE #5
80.3×130.3cm
photograph, acrylic on canvas
2003
Exhibition Catalogue
21x27cm / 14 pages / 15 plates
Preface by Keisuke Shirota "A SENSE OF DISTANCE"
Price: JPY 700
Back