SHINRO OHTAKE EXHIBITION: TABI-KEI
2006年9月25日(月)~12月25日(月)



Base Gallery is currently collaborating with the Museum of Contemporary Art Tokyo in preparation for Shinro Ohtake's exhibition "Zen-Kei: Retrospective 1955-2006." Five additional exhibitions of the artist's work are also planned to take place simultaneously at venues throughout Japan this fall. "Tabi-Kei" will be the first of these exhibitions.

Shinro Ohtake has created more than 30,000 works throughout his career thus far – most of which have never been exhibited or even seen the light of day. His creative energy is unparalleled, and the overwhelming sheer volume of work that he creates speaks directly to our intrinsic creative nature and the hidden demons that reside within the human mind.

Ohtake's eclectic mix of expressive forms and genre-straddling performances have made it difficult for many to form a complete picture of his work. But the upcoming "Zen-kei" retrospective may well be the first and last opportunity to witness this many of the artist's works – over 2000 individual pieces – exhibited in one location.
We believe that this retrospective will remind the world that genuine works of art are not born of shallow ideas and temporary strategies. Moreover, we are confident that "Zen-Kei" will provide viewers with a great opportunity to experience the intensity of expression and sample the time-honored traditions of drawing and painting.

The "Tabi-Kei" exhibition will offer viewers a chance to see fascinating paintings, drawings and etchings of landscapes from Ohtake's extensive travels to exotic locations around the globe. Such travels have been a significant source of inspiration throughout the artist's life.
It is the first time for most of these artworks to be exhibited, and when taking into account the enormous amount of unseen work dormant in the artist's studio, viewers cannot help but be overwhelmed by the force of Ohtake's impulse toward a state of constant creative output.
Selected Works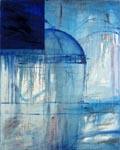 Blue Mosque No.5
oil on canvas
91x73cm
2002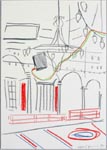 Loudspeaker at the Temple
colored pencil on paper
26.8×19.3cm
1994

Man of Kasbah II
etching
14x9cm
1994
Back