'On paper' Shinro Ohtake Exhibition
2005年6月6日(月)~8月8日(月)




Base Gallery presents an exhibition entitled "On paper" by Shinro Ohtake.
All works exhibited here are on 70×100-centimeter paper called Rosaspina by Fabriano. This show will focus on landscapes in the artist's mind for the past 20 years.

Ohtake feels the depth in paper as if it embraces his desire to draw. Moreover, he cannot help thinking that something might be hiding in dense gaps of fibre.
It implies his strong creative zest and meticulous attitude towards materials.

By concentrating on his familiar medium of paper, this show will try to reveal the nature of Ohtake, who has created an enormous amount of oeuvre.
In 2006 Tokyo Museum of Modern Art will hold his solo exhibition in their full venue of 3 floors. In the runup to this event, we will explore the entire gamut of his production through paper works.
Works (selected)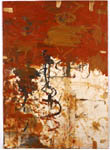 Phenorama 1
100×70.5cm
acrylic on paper
1992

Highrise district, night III
99.9x71cm
acrylic and gesso on paper
2002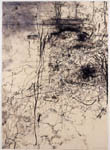 Electrocity III
100.1×70.8cm
charcoal on paper
2003
Exhibition Catalogue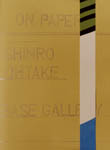 32×23.5cm / 16 pages inserted / 45 plates
Preface by Shinro Ohtake "ON PAPER"
Price: JPY 2100
Back