SHINRO OHTAKE EXHIBITION "UK77" Photographs, Drawings and Collages / 1977-78
2004年6月21日(月)~7月31日(土)



All the works exhibited at "Shinro Ohtake Exhibition UK77" were made while I was staying in the UK, mainly in London, from 3rd May 1977 to 28th April 1978. During this year, I came to realize even if obscurely that within me "painting", "photography" and "sticking things together" were deeply connected.

On the very first day of my arrival, I started wandering about the streets in London where I had no friends neither acquaintances, and got excited with discarded English-printed materials such as wrapping paper, tickets, newspapers and flyers. Especially finding fully filled rubbish bins outside the chemists' and record shops was a real kick. There was always treasure waiting for me. "I can make plenty of works if those beautiful things are found on the street for free" I thought. Then I tentatively bought a cheap notebook and stuck those things in order. Three years before I stayed in Hokkaido and took photographs of my daily life. Then in London I felt like more strongly to do painting, and to take photographs of passing moments as much as possible. Unconsciously started doing these on my first day in London. These things were perhaps the only ways that I could barely keep my balance in a strange city.

Looking up "collage" in an art dictionary, it means "to glue". I cannot help feeling that this meaning has been diversifying at an accelerated pace. If it really is so, recalling the past memories can be also "collage". For me "photography" seems to be deeply connected to this part. 27 years have past and I have kept glueing things. This act might stem from the "mysterious" power of "to glue, to paste".

Shinro Ohtake

* * * * *

Base Gallery is pleased to pronounce "Shinro Ohtake Exhibition UK77".
80 or more photographic works, collages and drawings as well as new silk-screen works will be shown and it reveals his fundamental landscape where this energetic artist has started from.
Works (selected)

On the Street, London
photograph
1977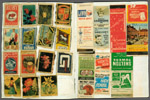 Scrapbook #3
collage
1977-78


Sketches, London
ink, ball-point pen, colored pencil on paper
1977-78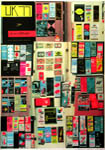 UK77
72x50cm
silkscreen
1977-78/2004 / edition of 200

UK77
72x50cm
silkscreen
1977-78/2004 / edition of 200
Exhibition Pamphlet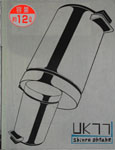 "UK77 / Capacity of approx. 12 litre"
40x31cm / 16 pages / doubled leaflet and poster inserted
Preface by Shinro Ohtake "UK77"
Price: JPY 1050
Related Publication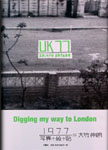 "UK77" by Shinro Ohtake
Published by Getsuyosha Ltd.
26x19cm / 656 pages
Price: JPY 7350
Back