Ji Dachun Exhibition
2007年10月18日(木)~11月16日(金)


Base gallery is pleased to present a solo exhibition of new works from Chinese contemporary artist Ji Dachun.

Contemporary art in China has become a large presence in international art markets in recent years, with Chinese artists receiving much attention worldwide. Ji Dachun is one such artist who has made a place for himself on the international art scene, but his work sets him apart from his peers. While many Chinese artists are paying close attention to trends and deliberately creating artwork with sales in mind (countless variations of jibes at certain political leaders, etc.), Ji Dachun has continued to explore his own unique voice as a creative artist without bending to popular trends.

Ji Dachun utilizes a variety of traditional and pop techniques, painting classical and cynical images in the middle of an expanse of canvas. His works function as a kind of 'self-portrait' that communicate clearly to viewers the face of his own life as a painter in modern China as well as the vacillating waves of change that continue sweeping the nation as a whole.

In 1999 Ji Dachun had his worldwide debut solo exhibition at Base Gallery, before going on to receive the international critical acclaim which he appreciates today. This year's exhibition marks the artist's long awaited second exhibition in Japan.
Biography
Works (selected)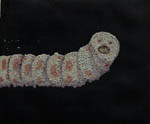 Carpenter Worm
acrylic on canvas
25x30cm
2007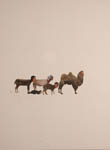 Rubaiyat
acrylic on canvas
200x150cm
2007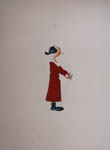 Olive
acrylic on canvas
150x110cm
2007
Related Publication
"Ji Dachun" (Selected Works)
Published by Grambooks, Tokyo
25×21.5cm / 96 pages / 87 works
Price: JPY 3,990
Back