MIWAKO IGA: NEW WORKS "MADAME CUCUMBER"
2007年1月19日(金)~2月28日(水)




Miwako Iga is a photographic artist whose works deal with social themes using toy dolls as her cast of characters. Her works have recently been the focus of high praise, being awarded the Canon "New Cosmos of Photography Prize" in 1999.
Iga's first exhibition at Base Gallery "Madame Cucumber" will feature 20 of the artist's latest works, and her first artist book of the same title will be published concurrently through grambooks.

The dolls featured in Iga's works are cheap, colorful, and emotionless; but, at the hands of the artist they become players in a medley of situations reflecting on the agonizing aspects of life in modern society. The gap between the players and their staged realities evokes laughter and at the same time, reveals the inherent fictions in everyday life. Iga effectively harnesses the photographic picture plane as a 'screen' offering views of another reality.

The artist's own personality is unmistakably reflected in the leading character, "Madame Cucumber." But her works remind us of the fact that we all – regardless of sex or age – play out the roles handed to us by society in our ongoing struggle for survival; and that we all possess the strength to overcome the solitary and sorrowful aspects of our lives with laughter.
Biography
Works (selected)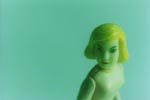 Hello Cucumber
C-print
60x90cm
2006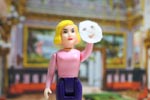 Beauty Treatment
Light Jet print
60x90cm
2006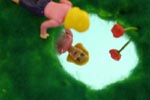 New Periods
Light Jet print
60x90cm
2006
Related Publication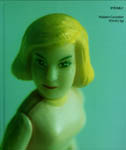 "Madame Cucumber" by Miwako Iga
Published by Grambooks, Tokyo
25×21.5cm / 78 pages / 40 color plates
Price: JPY 2,625
Back