Toru Hamada "Recent Works"
February 10th (Wed) – March 13th (Sat), 2010
2010年2月10日(水)~ 3月13日(土) 11:00 ~ 19:00  * 日曜・祝日休廊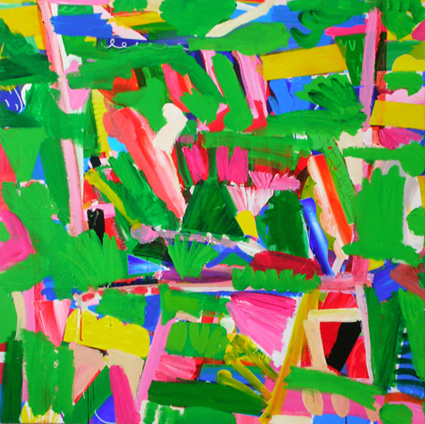 T-9-20
acrylic on canvas
130x130cm
2009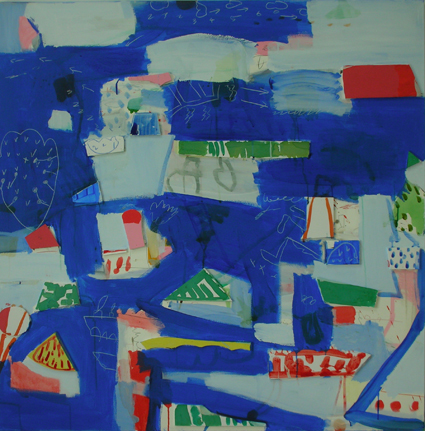 T-9-1 acrylic
mixedmedia on canvas
130x130cm
2009
Base Gallery is proud to announce a solo exhibition featuring new work by Toru Hamada.
A retrospective exhibition is scheduled to take place for this coming February at The Museum of Art, Ehime in his hometown of Ehime, and it will overview the past 40 years of the Paris based artist, Toru Hamada.
The exhibition at Base Gallery will offer Tokyo public the opportunity to experience his most recent works.
Though Hamada has mainly worked on carving in stone in the past years, we are going to present paintings and iron sculptures this time.
It seems vibrant colors not only exist along with intensity of each color but also come with the weight, and we can not help being drawn in the image on canvas due to the tidal wave in a slow manner on it.
Colors are vibrantly applied on the iron sculptures as if they were composed of colored paintings folded just like Japanese origami. At the same time, some pictorial figures on canvas are also identical in the sculptures as though both painting and plane surface deliver the ease and pleasantness in hue.
Having dedicated himself as an artist over 40 years, Hamada has reached the landmark stage seizing the opportunity of the exhibition at a public museum.
We invite you to join us for Hamda's 11th exhibition at Base Gallery featuring exceptional collection of recent works.
Biography
Back