Toru Hamada Exhibition
2006年3月1日(水)~20日(月)




Base Gallery is pleased to present the solo exhibition of Toru Hamada, who, having been engaged solely in abstract sculpture and painting for more than two decades, now attempts a new horizon in figurative painting.

In his new works Hamada depicts various animals – cow, lion, dog or rabbit – or human figures as if they are cut out and pasted onto the landscape.
Though curiously eye-catching, these living things only play supporting roles in Hamada's picture stage, giving way to the real protagonists such as colors, forms and brushstrokes. Amid restraints of colors and lines that are compulsory in figurative depiction, Hamada still walks free with his apparently nonchalant approach to colors and lines, thus revealing without effort the ambiguous nature of what is abstract and what is figurative.

Toru Hamada was born in Ehime, Japan in 1953 and emigrated to Europe in his late teens. Now he lives and works in Paris, France. The list of public collections includes the Kawaguchiko Museum of Art and the Kyoto University Hospital Hall, to name only a few.
Some 10 paintings will be displayed at this exhibition.
Biography
Works (selected)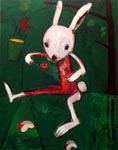 T-5-F-4
144x114cm
mixed media on canvas
2005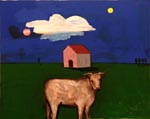 T-5-F-8
73x92cm
mixed media on canvas
2005
Exhibition Catalogue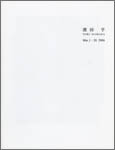 27x21cm / 8 pages / 10 plates
Price: JPY 500
Back